High Battery Capacity Wireless Power Bank with Solar Energy System
Model No.

PowerX3®

Made in

Taiwan
The power bank that can transform solar energy into electricity and store it!
Key Features
The function of our Solar Energy Transforming Power Bank is to serve as the mobile charger. Whenever you're on a business trip or a tour, you don't need to worry about staying outside all day long. With this power bank, you can immediately recharge your mobile phone.
In addition, for convenience, cost savings, and ease-of-use, our Solar Energy Transforming Power Bank integrates 3 products into 1. They're solar cell, power bank itself, and Qi wireless charging system.

Product 1︰Solar Cell
Our Solar Energy Transforming Power Bank includes a solar cell. When exposed to the sun, it transforms solar energy into the electricity, and stores it to an included power bank. When there is no sun, you can use a traditional Micro USB Cable to charge the power bank.

Product 2︰Power Bank
Our Solar Energy Transforming Power Bank includes a 5,000mAh rechargeable battery. Thus, take the iPhone8 with a battery capacity of 1,820mAh for example, our solar transforming power bank can fully charge 3 of the iPhone8. Even better, it can be hand-carried onto any airplane in the world.

Product 3︰Qi Wireless Charging
Our power bank is also able to charge cellphones such as Apple, ASUS, Google, HTC, LG, Nokia, Samsung, SONY, OPPO, Xiaomi, etc., wirelessly as long as the phone has a Qi wireless charging capability. This greatly make the charging process easier and more convenience.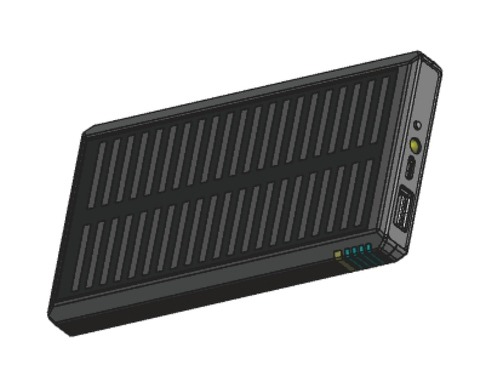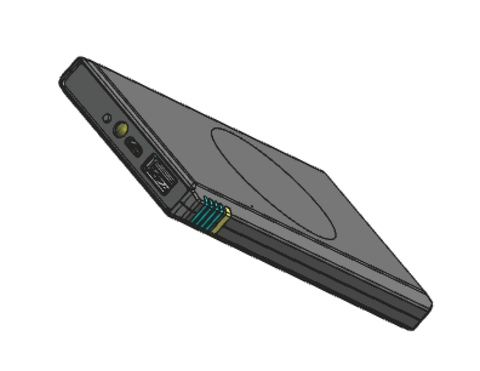 | | |
| --- | --- |
| Product Name | Wireless Charger with Solar Energy Transforming System |
| Charging Type | Inductive charging |
| Input voltage/current | 5V 2.1A |
| Output voltage/current | 5V 2.1A |
| capacity | 5000mAh |
| product size | 15 cm(L) x 8 cm(W) x 3 cm(H) |
| Solar power | 1.5w |
| Net weight | 227g |
How to use the "Fast Charging and High Battery Capacity Power Bank with Solar Energy System"?

First, charge the power bank.
Place the power bank under the sun. Immediately, it will begin to convert solar energy into electricity. The converted electricity will be stored in the included battery. When no sunlight is available, and you wish to charge it, then you can connect it by a Micro USB Cable to a power source(such as a computer or power outlet).
Next, charge your phone.
Scenario 1︰If your phone supports Qi wireless charging, then simply place your phone on the power bank, and your phone will begin to charge!
Scenario 2︰If your phone does not support Qi wireless charging, then connect your phone to the power bank by a Type-A USB Cable to charge!
Flashlight, Warning and Help Functions:
Our solar energy transforming power bank includes a high intensity LED light. The battery capacity of the power bank is 5,000mAh, which can power the LED light for a whole 20 nights long. The attached string allows you to hang the power bank outside or on your clothes during outdoor activities. When encountering emergency situations, continuously press and release LED button to send the help signal, which will let others to find you quickly.
Magneto Compass:
This power bank also includes a high-quality magneto compass which can help you when you lose your way. Just check it immediately then you'll find out where you came from or where you will be heading to later.
Product dimensions: 15 cm(L) x 8 cm(W) x 3 cm(H). It is smaller than the iPhone8. Easily stored in pockets, briefcases, purses, backpacks, etc.
Payment Details
Payment Terms:PayPal
Minimum Order:2 Piece(s)
---
You may also like
Recommendations
---
Small Order Recommendation